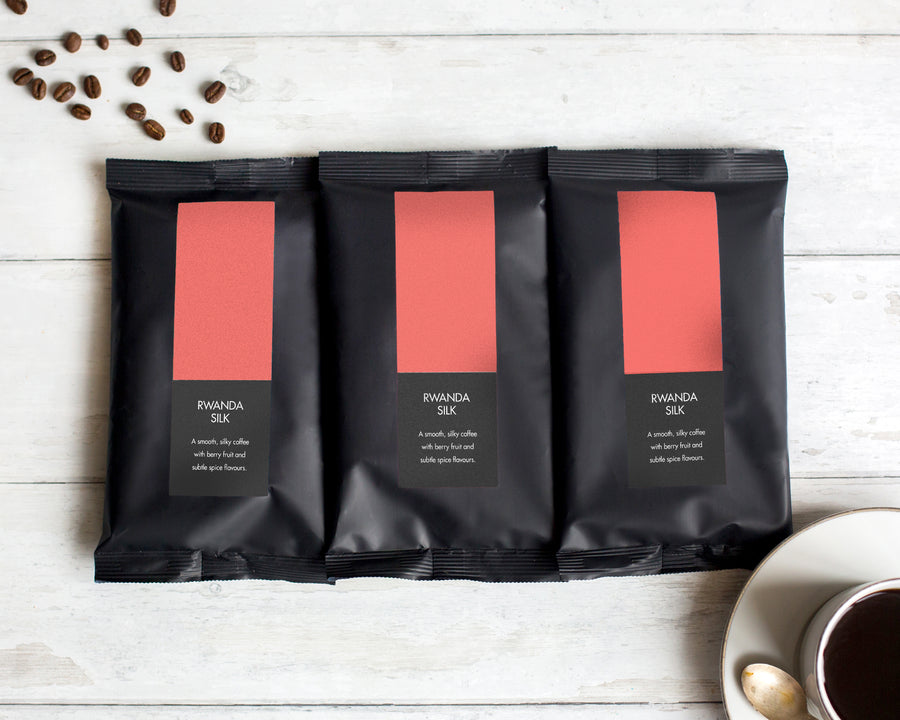 rwanda silk
Rwanda is known as the 'Land of a Thousand Hills' and is a country which produces high quality, high altitude coffee. It is not one of Africa's largest producing countries however it is positioning itself as a world class, specialty coffee origin and the delicious flavours of its coffee certainly back this up.
Rwandan coffee is grown at a high altitude (typically between 1700–2000m) and once harvested and sorted, is washed and sun dried. This coffee has berry fruit and subtle spice flavours as well as delicate black tea. It is smooth and silky and has a clean finish.
shop this coffee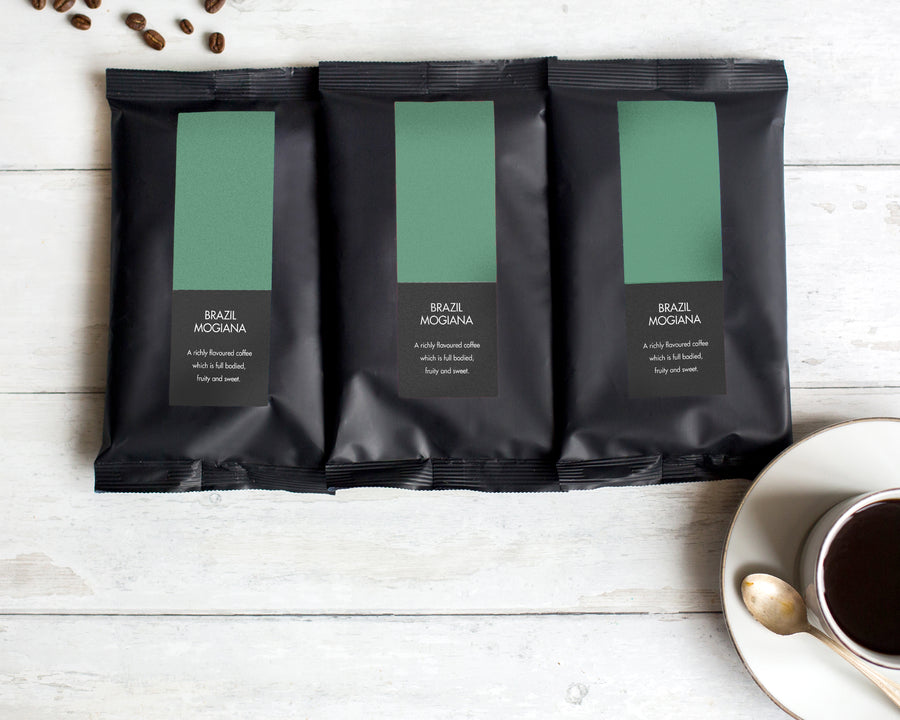 Brazil Mogiana
Brazil is a well known coffee producing giant! In fact, Brazil is the largest coffee producer in the world, accounting for one third of the coffee produced globally.
This Brazilian coffee is from Mogiana, Sul de Minas, or Cerrado and has been grown at 800-1350m then dry processed.
Since the coffees are dried in contact with the sweet mucilage, the coffee's cup profile will be heavy in body, sweet, smooth, and complex. This coffee delivers chocolate notes, nutty and sweet caramel flavours and a clean finish.
shop this coffee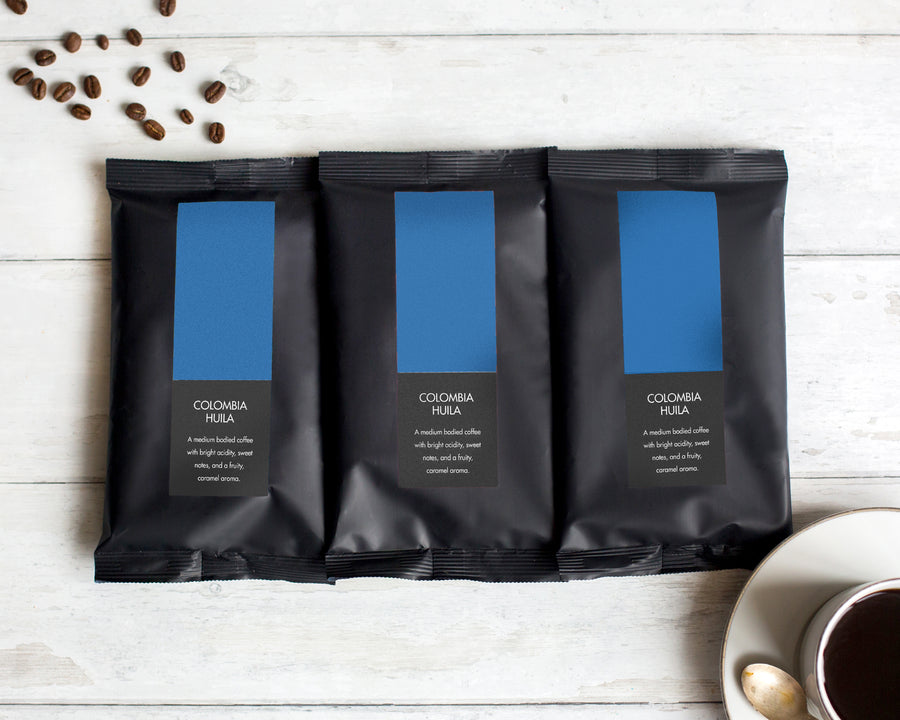 Colombia Huila
Few places are more well known for their coffee than Colombia! One of the reasons that Colombia is such a favoured coffee producer is thanks to its great location: it sits close to the equator and its mountains can reach over 2000 m.a.s.l.
This coffee is from Huila in the southwest of Colombia, a region which produces the most coffee in the country.
Many roasters, baristas, and café owners will tell you that Huila is one of their favourite coffee origins, thanks to its bright acidity, sweetness, and aromatic profile!
shop this coffee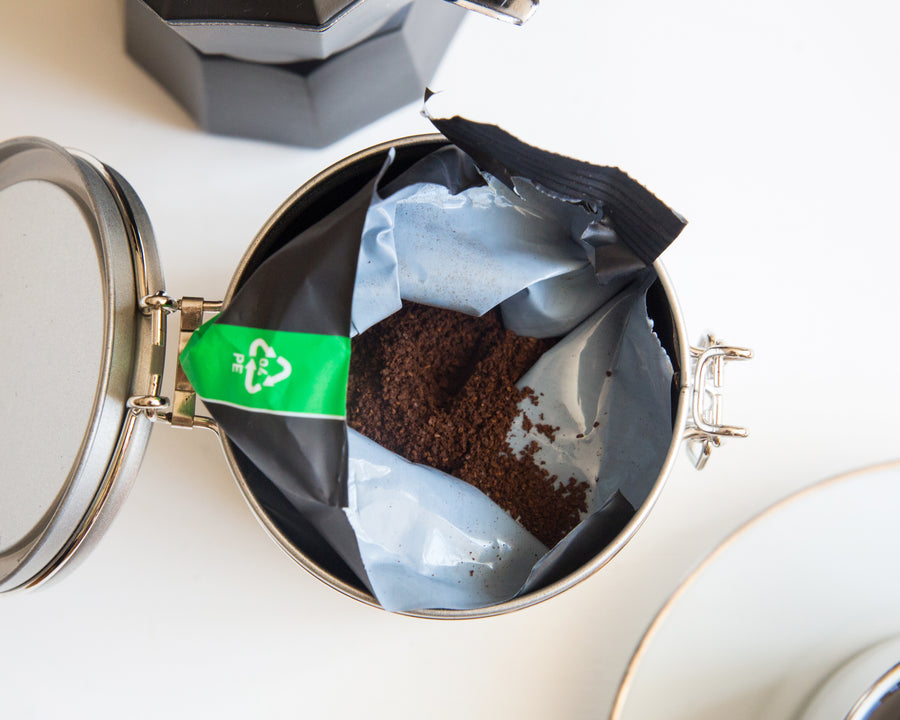 omni grind
These brew-lliant coffees have been ground as an omni grind which is suitable for use in a cafetière (french press), V60 pour over, chemex, Aeropress or filter machine. Here are some of our top tips for preparing:
Cafetière/French Press: Heat the vessel with hot water, use 1.5tbsp per cup and leave for 4 minutes before plunging. V60: With the filter in place, warm the V60 and mug with warm water. We recommend using 15g of coffee. Aeropress: Heat the Aeorpress and your mug with hot water. Use 220g of coffee and brew for 1min & 15secs.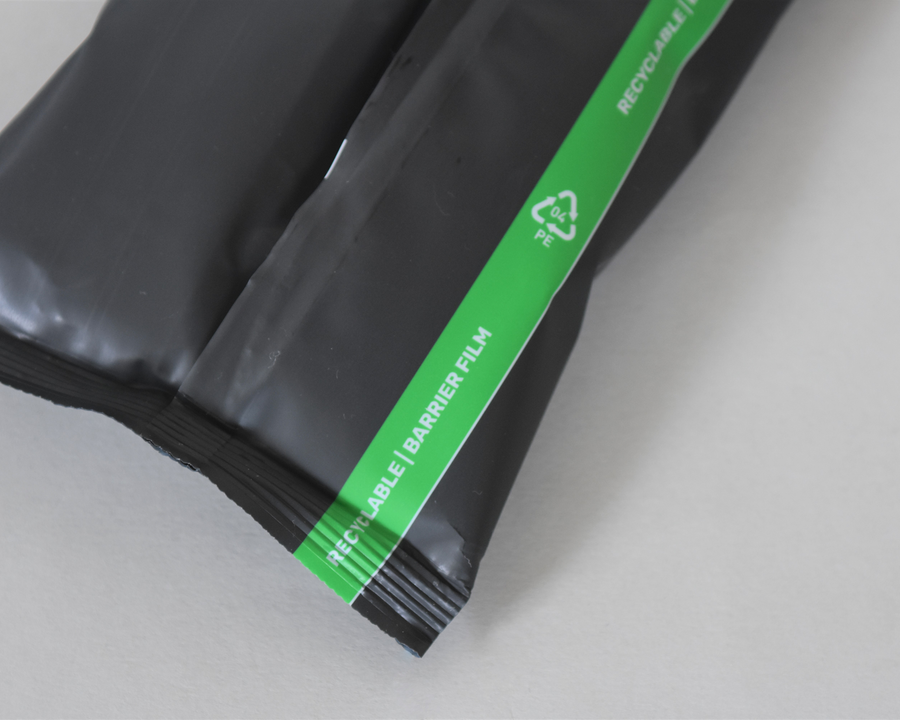 stir-stainability
Sistir's version of sustainability is called STIR-stainability, of course! The coffees listed above are packaged in recyclable PP bags which can be recycled. However, you will need to check with your Local Authority to ensure it is recycled in your area. You can recycle this plastic if your Local Authority mentions:Packing tape, Plastic Straws, Take away tubs, Ketchup bottles, Plastic picnic ware, Plastic bags or film that can't be stretched - these are not recyclable.